Main content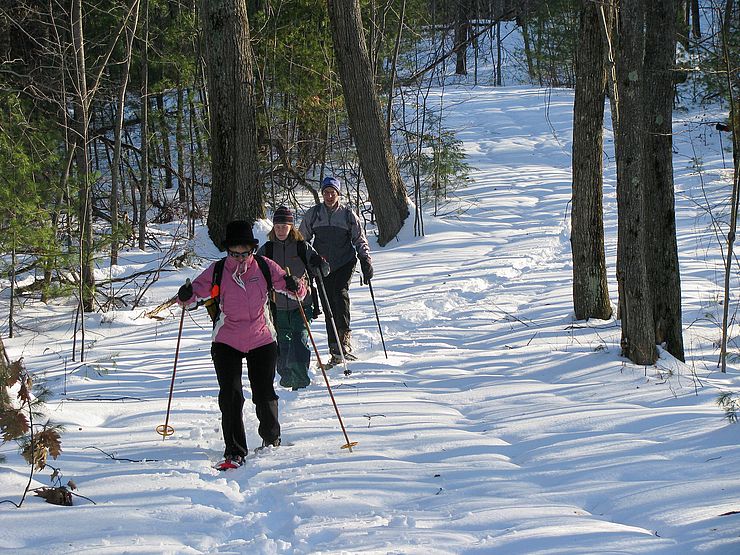 Get outside any time of year thanks to the variety of recreation opportunities the Monadnock region has to offer, many right on conserved lands or on trails that cross conserved lands. No matter what your abilities or interests are, there is an activity and place for you here in the Monadnock region.
Bicycling
The Cheshire Rail Trail spans more than 30 miles, passing through several small towns and including excellent views of the beautiful local scenery.
Mountain Biking
Check out the New England Mountain Bike Association's website for maps and more to find area trails that range from beginner to expert.
Horseback Riding
Take the reins and head out on one of the many horse-accessible trails, including the Monadnock Branch Rail Trail.
Rock- and Ice-Climbing
Local climbers know the favorite spots for climbing, many on public conserved lands. Visit the Monadnock Climbers Association website for more information.
Swimming
Residents and visitors to the Monadnock region can always look forward to a beautiful summer season. The region boasts innumerable lakes, rivers, and streams that are sure to cool you off on even the hottest summer day. Find a swimming hole near you.
Cross-country Skiing
In addition to skiing public trails listed above, the Monadnock region offers specific cross-country skiing areas.
Snowmobiling
Check out this interactive corridor map, along with local snowmobiling club information.
Snowshoeing
When winter arrives and the snow begins to fall, snowshoeing can be a great way to explore the winter woods. In addition to our hiking trails, there are places around the region you might like to discover.
Hiking, skiing, and exploring keep me connected to nature and physically and mentally energized. Protecting land is so important — especially for outdoor enthusiasts.
— Lew Shelley, Walpole, N.H.