Main content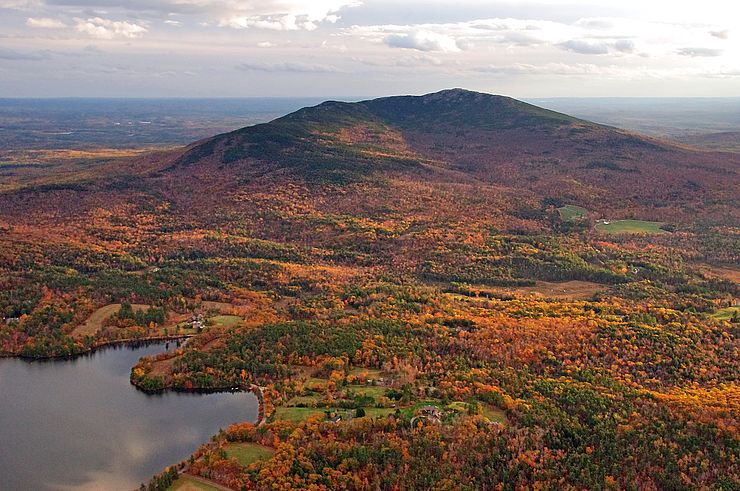 Against the backdrop of the rolling hills and valleys of the region strikingly stands Mount Monadnock. The views of the mountain, and the view from the summit are breathtaking, but the region is more than just the mountain. The Monadnock region includes many small communities and towns as well as organizations dedicated to preserving and conserving the land which includes many unique natural resources, and provides opportunities for a myriad of outdoor recreational activities.
Mount Monadnock sits on the divide between two major watersheds, with the Connecticut River watershed to the west and the Merrimack River watershed to the east. Due to fires in the 19th century, the peak of the mountain is bare but farther down the slopes, one can find various native plant species in a variety of unique ecosystems including alpine bogs. Here's another interesting piece of trivia: the mountain was designated a National Natural Landmark in 1987, which is a program that encourages the conservation of sites with unique geological and biological resources.
Conservation Success
The protection of the most hiked mountain in North America began in 1915 when the Society for the Protection of New Hampshire Forests (SPNHF) purchased its first tract. Their land is leased to the State of New Hampshire and, along with land owned by the state, managed as Monadnock State Park. The tradition of preserving the natural qualities of this mountain has been continued by other conservation organizations, including the Monadnock Conservancy, which have worked to protect land around the base of the mountain.
Hiking Monadnock
Many trails ascend Mount Monadnock including the Monadnock-Sunapee Greenway and the Metacomet-Monadnock Trail, not to mention the dozens of trails taken to day hike the mountain itself.
Will you share your story?
Is there a special place in the Monadnock region you're grateful was put into conservation? Are you and your family thankful for conserved lands as places to explore? Reasons you love nature and being outside? We'd love to know!
Conserving our land was so important to my family. The views, trails, and wildlife here impact all of our lives in incredible ways, and now it can continue to do that forever.
— Monica Lehner, Greenfield, N.H.