Main content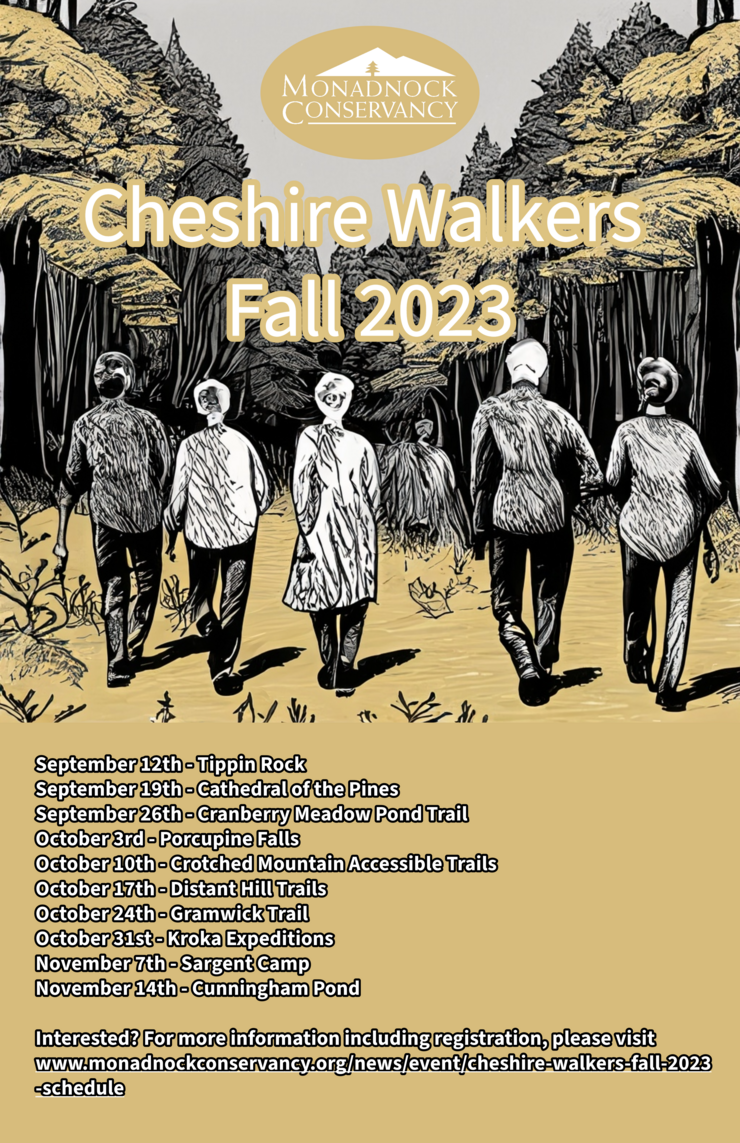 Cheshire Walkers - our walking group for seniors or anyone who might prefer a slower pace - returns for the fall season! Below is a schedule of hikes along with descriptions. To register, please follow this link to a google form. After registering, you will receive an email with more information about the hike or hikes you signed up for, including directions and where to meet. Hikers meet in Keene at 9am to carpool to the trailhead. Any questions? Email Kate Sullivan kate@monadnockconservancy.org.

September 12th - Tippin Rock
Come for the gorgeous views, stay to learn the secret technique for making a massive glacial erratic boulder sway with your bare hands! We'll walk from a sunny hayfield through a hemlock forest and on to the top of Hewes Hill, passing the iconic rock along the way. Though the climb to the Rock is steadily uphill, it is scarcely 0.7 miles (one way), and the footpath itself is smooth.
Distance: 1.8 miles.
Breathing: Moderate.
Footing: Easy.
September 19th - Cathedral of the Pines
Founded at the end of World War II to honor the military service and sacrifice of American men and women, Cathedral of the Pines is best known for its open-air, non-denominational hilltop sanctuary with a breathtaking view of Mount Monadnock. Less known are the Cathedral's five miles of well-maintained public hiking trails that crisscross the 236-acre property. We'll explore the 1.5-mile Stearns-Upton Family Trail, which winds through mixed forests and mountain laurel glades and follows the shore of Grassy Pond. Though not long, the trail starts with a relatively steep descent, and rocks and roots are frequently encountered on the path.
Distance: 1.5 miles.
Breathing: Moderate.
Footing: Moderate to hard.
September 26th - Cranberry Meadow Pond Trail
This trail meanders through a wetland via a boardwalk to the hemlock woods, and onto a trail that follows a brook for nearly 1/2 mile before climbing up in elevation slightly to an area with mature white pines and highbush blueberry bushes overlooking Cranberry Meadow Pond. The trail contains some footbridges, and roots and rocks in a few places, and a small hill; however, we will walk it slowly so that everyone can negotiate the trail easily and safely.
Distance: 4.5 miles
Breathing: Moderate
Footing: Moderate
October 3rd - Porcupine Falls
This meandering one-way trail on the John and Rosemarie Calhoun Family Forest travels through a mixed hardwood-conifer forest rich with mosses and ferns. The trail follows White Brook, a quintessential babbling brook that makes a peaceful backdrop for a picnic, and culminates at a bridge over the brook — a wonderful spot to enjoy "Porky Falls" as the Calhoun family called this waterfall.
Distance: 0.4 miles
Breathing: Easy
Footing: Easy
October 10th - Crotched Mountain Accessible Trails
When it opened in 2011, Crotched Mountain's accessible trail network set the gold standard for universally accessible outdoor recreation. Located adjacent to the former Crotched Mountain Rehabilitation Center and School (now operated by Seven Hills New Hampshire) and amidst 1,200 acres of permanently conserved land, the 3.6 miles of trails combine hardpack pathways, boardwalks, moderate grades, switchbacks, and rest stops to create a natural, yet accessible, mountainside hiking experience for people of all abilities. We'll follow the 2-mile Dutton Brook Trail loop through diverse forest and around a beautiful wetland. Note: due to heavy summer rains, the trails are currently unsuitable for wheeled mobility devices, but they are perfect for the Cheshire Walkers.
Distance: 2 miles.
Breathing: Easy.
Footing: Easy.
October 17th - Distant Hill Trails
Distant Hill Gardens and Nature Trail is a non-profit organization with a mission of making nature and the outdoors accessible to everyone. It strives to inspire children and adults, no matter their ability, to cultivate an intimate connection to the natural world through education. The Conservancy has been working with the landowners to place a conservation easement on their land. We'll plan to hike part of their Accessible Nature Trail and Lost Acre Trail Loop.
Distance: 1.5 miles.
Breathing: Easy
Footing: Moderate.
October 24th - Gramwick Trail
The Gramwick Trail is an easy out-and-back hike through gently rolling terrain along the scenic shoreline of Mountain Brook Reservoir in Jaffrey. The trail is named for Herb and Colette Gramm, who donated the property to the Monadnock Conservancy, and their friend Tom Sedgwick, who helped the Gramms build the trail for the enjoyment of the public. Occasionally hikers will need to be careful as they walk over protruding tree roots and footbridges.
Distance: 2 miles.
Breathing and Footing: Easy.
October 31st - Kroka Expeditions
Kroka Expeditions is a non-profit wilderness expedition school based on a year-round organic farm in Marlow. Diverse offerings range from week-long programs in Marlow to an annual semester expedition from the Canadian Arctic to New York City by ski and canoe. Kroka welcomes visitors to its network of public trails on the Marlow campus. We'll explore the property, visiting a beaver pond and Porcupine Cliffs, and see some of the rustic structures that students call home in all seasons. Though not long, this is a more challenging walk due to sections of the trail with poor footing, including stepping up and down boulders and crossing streams on rocks.
Breathing and Footing: Moderate
November 7th - Sargent Camp
Sargent Center / Nature's Classroom: Located on Sargent Camp Road off Windy Row on the Peterborough-Harrisville border, the Center has trails on 700 acres for hiking/cross-country skiing. We will explore Half Moon Pond and the Nubanusit Brook on about 3 miles of primarily flat and wide trails (some short climbs and descents) but there are many more trails to return to and explore later or to extend the visit. There may be some wet spots to navigate and roots and rocks of course! The land is owned by Boston University. It has been a long time camp location for school groups.
Distance: 3 miles
Breathing and Footing: Easy
November 14th - Cunningham Pond
Peterborough's former public water supply and now site of the town beach, Cunningham Pond is a jewel perched high above the town in the shadow of Pack Monadnock. The main two-mile loop traverses woodlands and a hemlock grove, crossing two streams on sturdy wood bridges. Then, it climbs to a large hay field with sweeping views. From the field, the trail continues down to an old carriage road, following the pond's edge before looping back to the main trail. The terrain is generally rolling, with only short steeper sections, and the surface is a mix of flat sections and some portions that require stepping over rocks and roots.
Distance: 2.5 miles.
Breathing: Moderate.
Footing: Moderate.