Main content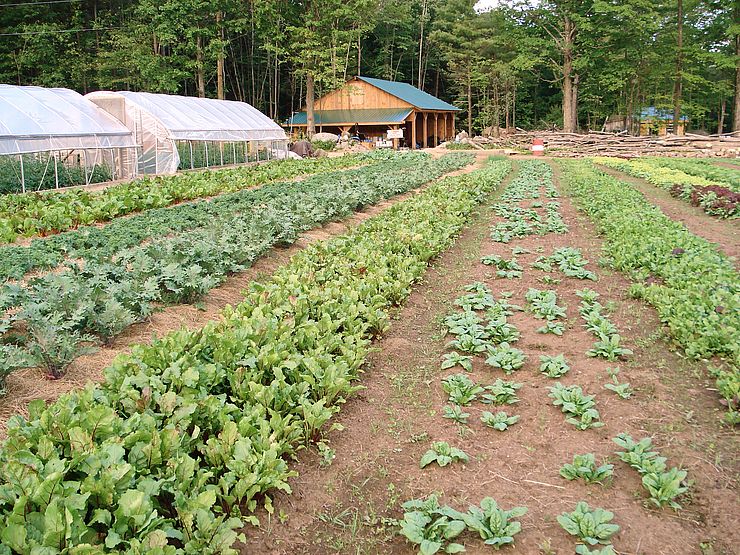 Fitzwilliam, N.H.
25 acres • Conserved in 2008
farms, health & recreation
When David Green and Matt Buonomano purchased this property, they always hoped to see a CSA (community supported agriculture operation) established on the property's nearly 15 acres of prime farm soil. They just never imagined it would happen so quickly.
Meanwhile, Tracie (Smith) Loock had been farming on her father's land in Sullivan for 9 years, searching every year for her own farm and knowing that she couldn't be in that spot much longer.
"That spring my father told me this would be the last year I could farm on his land. The farm wasn't his dream, and he didn't like the traffic," recalled Tracie. "But I hadn't found any suitable land that was affordable with the modest farm income I was making."
Common Obstacles
It's often hard for young farmers to find land that is still undeveloped, has rich agricultural soils, and enough acreage to offer a place to live and to raise crops. Too often such tracts are in demand and priced high due to also being desirable building lots. By eliminating the potential for non-agricultural development, a conservation easement can effectively reduce land value to within the reach of an aspiring farmer. And that's what David and Matt were able to do for Tracie with help from the Monadnock Conservancy.
"After 10 years, I finally found my own land. It is beyond my wildest dreams. The property has great soil, and the community is awesome," Tracie remarked.
That fall she moved her established business — greenhouses, equipment, supplies, perennial plants, and compost; tilled up the land; cut trees and milled them onsite to build a barn; and brought in a trailer as her home. Come spring, she continued the CSA, even expanding her operation by taking on new members.
The Future of Farming
Years later, Tracie has been able to retire. The Frazier family now owns the farm and day-to-day operations are run by an onsite farm manager. With affordable prime agricultural land, a great crew, and a supportive community hungry for nutritious, fresh, quality local food, Tracie's Community Farm continues to thrive. As the seasons progress, crops change, ensuring an ever-changing palette from lettuce in the spring to onions in early fall.