Main content
The Wildwood
Larger than life and forever conserved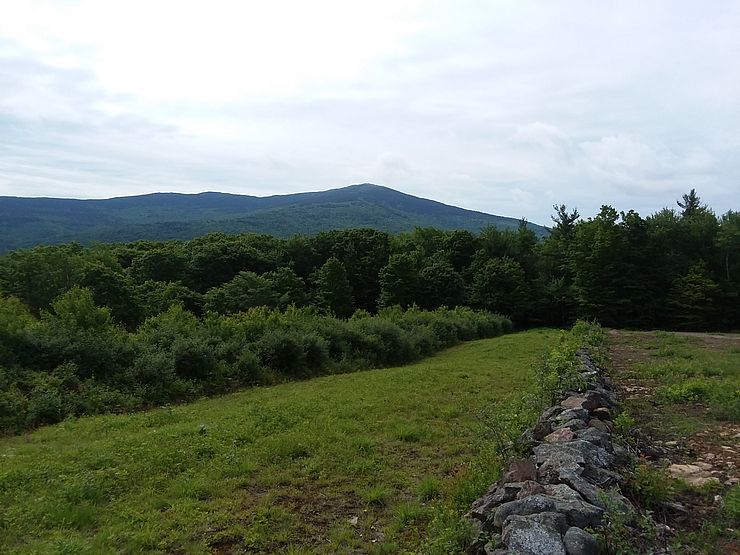 Dublin, New Hampshire
570 acres
1,200 acres is so large it is hard to imagine. Picture roughly 900 football fields sitting side by side. This is the scale of the Wildwood, a large, forested property just north of Mount Monadnock that is now protected forever through a partnership between the Putnam Family, the Northeast Wilderness Trust, and the Monadnock Conservancy. We now hold a conservation easement on 570 acres of the Wildwood owned by the Putnams, while the remainder of the land was donated by them to the Northeast Wilderness Trust to become a forever wild preserve. The achievement is the culmination of a decades-long effort to add this property to a massive block of conserved land surrounding Mount Monadnock. With great size comes great benefit, from scenic views that drive tourism to climate change mitigation and the protection of wildlife habitat.
The Wildwood features nearly two miles of scenic road frontage along Route 101 in Dublin, New Hampshire and connects with some 9,000 acres of other conservation land to the south. Although the leaf peepers, hikers, and other tourists drawn to places like the Wildwood might slow traffic, they are a vital part of the regional economy, pumping more than $5.5 billion into local businesses statewide each year.
Mitigating the effects of climate change was arguably the most important reason to conserve this land. As atmospheric carbon dioxide levels continue to rise, New Hampshire is at risk from hotter summers, warmer winters, coastal flooding, and more intense storms. Fortunately, forests like the Wildwood—when they remain forests—store more carbon in plants and soil than they release, which is why conserving large tracts of forest is one of the simplest yet most effective natural climate solutions available. More than 100 acres of wetlands on the Wildwood are even more effective at storing carbon, and they have the added benefit of storing excess rainwater, mitigating floods during intense storms then slowly releasing water, even during droughts.
Climate change also affects plant and animal habitats. As temperatures rise, the conditions needed for certain species to thrive will shift northward. Conservation, by protecting continuous north-south land corridors, helps ensure species can shift with their habitats over time. The Wildwood links with other existing conservation land to form a continuous corridor from Jaffrey in the south to Harrisville in the north.
These benefits would not be possible without the dedication and generosity of the Putnam Family, who worked with the Conservancy to reach the right solutions for the Wildwood, ultimately placing a conservation easement on the land to protect it from future development. It is their hope that the property will continue to be used for recreation, as it has for many years.
The Monadnock Conservancy now oversees more than 23,000 acres of permanently conserved forests, wetlands, and farms. It is our duty and privilege to be the stewards of this land, but we could not do it without the support of donors. Your donations help ensure we have the staff, tools, and expertise to seize conservation opportunities when they arise. Whether you care about the local economy, clean water, wildlife habitat, or beautiful views, the Conservancy works to ensure that these resources are here for you and for future generations