Main content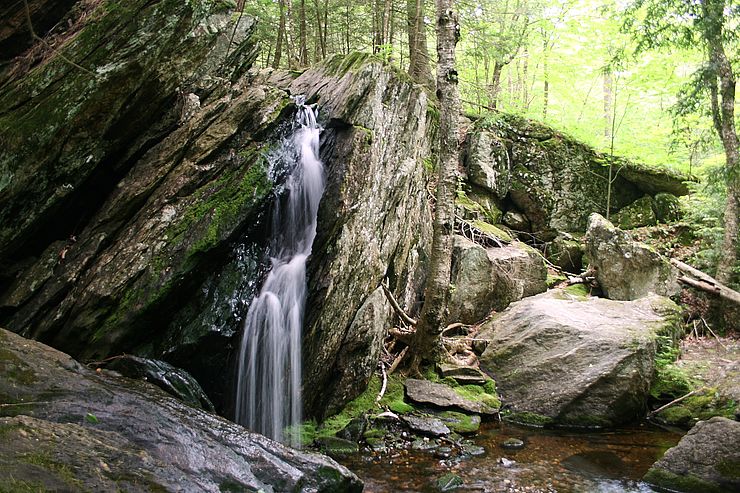 Gilsum, N.H.
335 acres • Conserved in 2011, 2012, 2014
clean water, wildlife, forests, health & recreation, children & nature
After their mom and dad had passed, the five Calhoun children decided that owning the family land together would be too complicated. No matter how much they loved one another, joint ownership of 300-plus acres posed challenges. So, the Calhoun children were left with the question, "What to do?"
"As my siblings and I talked," recalled Jack Calhoun, "We realized that the land our parents had owned and made their home for 50 years held very special memories for each one of us: cutting firewood with our dad, who always advocated for wood heating; spring picnics by the waterfalls; skinny dipping in chilly White Brook; and finding with our mom the perfect Christmas tree. These memories were too powerful to just dismiss out of hand."
A Choice to Honor Mom and Dad
The Calhoun children chose to donate the land to the Monadnock Conservancy. "We decided we could honor our parents and their commitment to land stewardship by making sure their land was owned forever in a way that honored our family's legacy of forest stewardship," said Jack.
"To mom and dad, who owned their own consulting forestry business, a carefully managed forest was nothing more complicated than a well-tended garden, where trees were harvested on a sustainable basis, with an eye toward improving the overall health and quality of the trees, providing wildlife habitat and protection of soil and water resources as well as providing raw materials and protection of scenic beauty."
Now, for generations to come, the land will continue to be cared for as the Calhouns had, and the Calhoun family and other families like yours will be able to visit the John and Rosemarie Calhoun Family Forest, as this Gilsum property is now known, to hike the Porcupine Falls Trail and to learn and share in what makes this a very special place.