Main content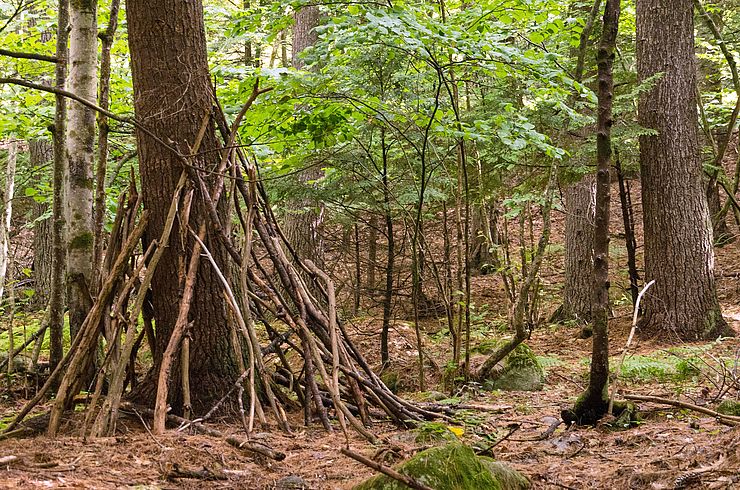 Marlborough, N.H.
23 acres • Conserved in 2015
clean water, wildlife, forests, health & recreation, children & nature
For many, the best way to ensure that a special place remains treasured by the community and open to neighbors is to conserve the land. That was true for the Allen family, who owned more than 20 acres behind the Marlborough School. Home to multiple generations, the land had been in the family for 125 years. Being outside was a big part of John Allen's "happy days" of childhood. "These woods have always been my sanctuary," he said, "I want others to have a special place like I did."
Over the years, these 23 acres of woods, with a babbling brook and a hill covered in large red oak and white pine trees, inspired many others including the kids at the adjacent school. Teachers use the property as an outdoor laboratory and classroom, while the cross-country team runs on the trails and the afterschool program kids build tree forts.
Kids Need Nature
When their mom left for a nursing home, John Allen and his sister Laurie realized that they needed to sell the land to help pay for her care. But they wanted to make sure that the land, along a rail trail and the waters of Trestle Brook, was conserved for kids and families — so it could still be the outdoor playground and place of joy and exploration that it had been for the Allens.
"There is much more to life than being a couch potato, playing video games, or messaging each other on Facebook," said John. "It would be better to get our kids out into the woods, like my sister and I did, and give them an opportunity to reflect and have an original thought."
A Treasured Place for All
John and Laurie knew, as did the people of Marlborough, that once this land was gone, it would be gone for good, and children for generations to come would have lost a very special place. And so, thanks to a broad community partnership and with the support of hundreds of people like you, the Monadnock Conservancy was able to assist the Allen family to conserve their land. As a result, it has been transferred to the Town of Marlborough to be a community conservation area and outdoor classroom.