Main content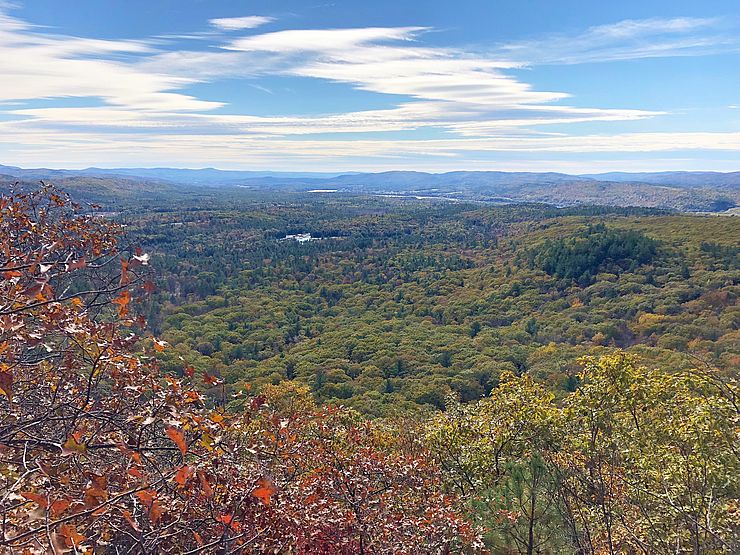 Hinsdale, N.H.
244 acres • Conserved in 2013
wildlife, forests
Outside the Butterfields' window, a field rolls out toward the distant treeline and a blue mountain ridge carves a sharp line between land and sky. Charles and Nancy Butterfield have enjoyed this view for the last half century, all the years they have called this property home.
"The realtor didn't want to show me the property," Nancy recalled. "He thought it would be too isolated for us." However after falling in love with the abundance of shagbark hickories, which reminded her of her childhood in West Virginia, she was convinced it would be a good place to live. "I prefer to think of it as secluded," she said.
The Right Thing to Do
Little has changed about the property since the Butterfields first purchased it, and they wanted to keep it that way. The Butterfields became increasingly more interested in the conservation of their 244 acres as they watched neighboring farms be subdivided and developed. A conservation easement to protect their mile of frontage along Oxbow Road "just seemed like the right thing to do," Charles said of their choice to work with the Monadnock Conservancy.
Scenic Views, Wildlife Dens
The magnificent view of Mine Ledge and Rattlesnake Mountain is preserved forever. Dense hemlock, pine, and hardwood forests, rocky talus slopes, and productive streams support several species of wildlife including bear, bobcat, deer, and turkey. The Butterfields continue to mow the two fields and have done a few small-scale timber harvests, to care for the health of the forest. Together with abutting conservation areas, including the Madame Sherri Forest and Wantastiquet Mountain Natural area, the Butterfields' donation establishes a nearly 2,000-acre block of conserved land.
"We just imagine this corner of the world as a place for people to enjoy," Nancy remarked, "now and in the future."